Welcome!
We are the Rising Tide Writers, and we live and work on Cape Cod. We invite you to explore the pages at this site and we hope you enjoy what you find here. Thanks for visiting!
   The Rising Tide Writers are about as diverse a group of prose writers as you will find anywhere.  There is at least one author who will meet any reader's interests and tastes.
   We have enchanting Irish stories, poignant memories of a father and family, hilarious sci-fi comedy, a teacher's wild ride into mad sex and alternative realities, a nitty-gritty novel of being young and poor in the New Bedford area, tales of Mt. Rainier and the African Plains,  a childrens/picture book, true story of a plucky goldfish, the escapades of a lost piano, funny yarns set in small New England towns, historical fiction about Cape Cod's famous pirate, Samuel Bellamy and the Whydah, what it was like growing up white in the projects, and historical fiction set in pre-World War II Poland for Young Adults.
   Other offerings include the wild adventures of Alaskan bush pilots, a lesbian cookbook, factual books about railroads and their secrets, the  personal memoir of a young woman captured by the Russians during WWII, a Chatham, Cape Cod murder mystery, a variety of witty writing and jocular jotting, a touching childhood memoir of WWII in Nazi-occupied Brussels and a children's book set in Chatham..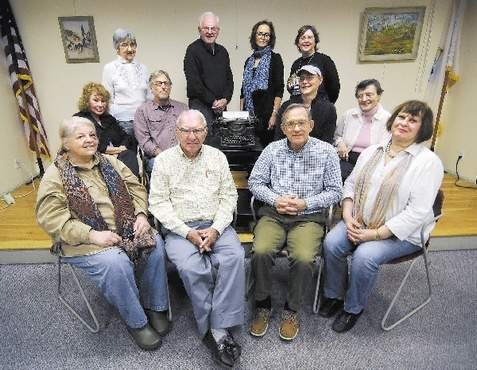 Photographed are, bottom row, left to right, Elizabeth Moisan of Harwich, Ed Cottier of East Dennis, Ted Shrady of Orleans and Francoise Webb of Dennis; middle row, left to right, Barbara Leedom of South Yarmouth, Rick Fordyce of Harwich Port, Rachel Crosby of Harwich Port and Jeanne Savage of South Dennis; back row, left to right, Marge Frith of Harwich, Finbarr Corr of Dennis, Stephanie Reeve of Yarmouthport and Claudia Dillaire of Harwich.
Missing from photo: Joseph Cromarty, Al Derochers, Lee Doty, Dorothy Hemmings, Sebastian Mudry, William Richmond, Ingrid Stabins and Bob Surrette.
Click here to read the accompanying article in the Cape Cod Times of June 9, 2013.